Well today seems the bleakest Good Friday I think I've experienced.
Growing up and through most of my adult life this has been the start of a great weekend (usually) – no work, drinking, dancing, partying…life lived to the full spending the fruits of hard work on having a good time.
But over the years the meaning and significance of Good Friday has crept up on me.
I don't normally talk about my faith but it seems apt today in the midst of this weird period we find ourselves in.
For me there has never been a crisis point that led me to faith – I've never hit rock bottom, never messed things up on such a scale that I had no where else to turn, or a plan to get things back on track. I didn't come to believe out of desperation or  losing everything. For me it's always kind of been there and as I've gotten older I see His hand more and more in life around me.
I have a comfortable life, one of contentment, close family, good friends and all my needs fulfilled. I can't say I've always worked hard, the truth is that in the past I've always been able to do just enough to get by. That being said when needed I have worked hard to get things done and I'm especially good in a crisis – where a stoic practicality keeps me calm and focused. I often see solutions quicker than others.
There are many things that have shaped that – the whole nurture/nature debate. But as I get older I see more coincidences that join up and light a path to Jesus. People I've met, situations, opportunities – that could be passed off as simply that coincidence but when those coincidences stack up it makes it harder and harder to ignore.
This seems the start of a longer post about the events and people that have brought me to faith – which wasn't my intention for this post…
Today it struck me that isolation is insulating us all from the harsh realities of how things are out there. We all watch the news and hear the statistics and talk of flattening peaks. But the reality is that for thousands of people across the country (millions across the world) this is the blackest/bleakest of a Friday with no goodness. They have lost love ones, or are maybe separated from friends and family, unable to reach out and offer comfort. Or maybe they are in hospital, worried, fearful unable to breath and scared about what happens next.
In those moments I pray they feel the presence of the Holly Spirit and take comfort in the knowledge that this is all temporary, there is a better place and entry is simply through belief.
John 11:25 Jesus said to her, "I am the resurrection and the life. He who believes in Me, though he may die, he shall live. 26 And whoever lives and believes in Me shall never die. 
How things get presented…
The reality for many across the world…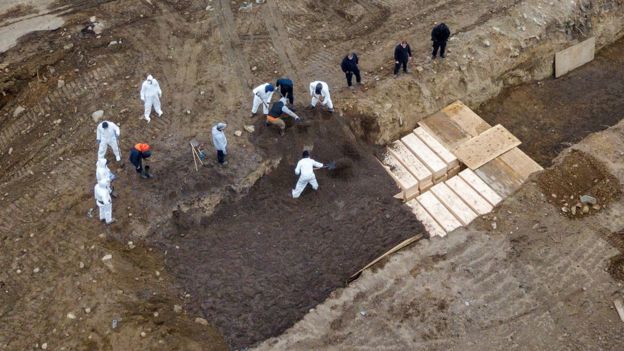 This picture was taken in New York – 40 people buried in a mass grave in the leading Nation of the World.